A travelling army of 6500 will shuffle with excitement at the Ricoh Arena tomorrow afternoon as Leicester City kick off their 2011/12 campaign with an away tie at local rivals Coventry City. Blessed with £10 Million of transfer expenditure and thousands upon thousands leaking towards wages, it's an exciting time for the Foxes. Not that it hasn't been for some time, now. Since their pit-stop in League One, Leicester have entertained crowds and proven themselves to be amongst the best in their division, no matter what that division is.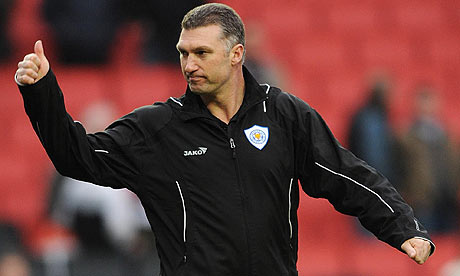 Nigel Pearson; The figure of Leicester City's League One title win

Under Nigel Pearson, Leicester had a presence of class. Not only were they winning, but they won with honour, with dignity. It was a beautiful aspect of the beautiful game shining even in the lower leagues. Hard working ethics and young talent balanced well under Pearson's guidance. They ran away with the League One title in 2008/09 and never looked insecure of their position as top dog. Such brilliance in a side, especially one so young, can often breed arrogance. Those so young can become so cocky and self-obsessed, allowing themselves to not only buy into their own hype, but shower in it, and make sure everyone is watching. Luckily, this didn't happen. Pearson has a touch of class about him, and refuses to allow such disdain to occur. They played with pride in their game but a focus on the prize. They were runaway winners far too regularly, but with it they acted like true champions. They respected their rivals and worked hard for what they earned. It was a team built on professionalism and maturity, and that shone through from the way they passed the ball to the way they won and lost games. Nobody could question the class and awe of Leicester City throughout that season, or the next.
A hurtling tide riding from the coast of Thailand has changed the perspective and beliefs around Leicester, though, as their new owners rode in on millions and changed the face of the Championship for the upcoming season. With Millions thrown around like pocket change and no signs of stopping, there isn't a remaining sign of what Nigel Pearson built at Leicester City. His departure to Hull wasn't so tragic in the beginning, after football enthusiast Paulo Sousa joined the Foxes' managerial side. A poor start and no reward for beautiful style caused his tenure to abruptly end, though, leaving the owners with one choice.
It wasn't to scout the best the league had to offer and battle on a level playing field. It wasn't to bring through a young and promising manager who can learn and develop from the benefits a club like Leicester can offer. It was to buy the league, and buy it big.
Comical Sven, known for his womanizing and fear of a 1-0 lead, was the first piece of the jigsaw. In his own right, Eriksson has to be considered a world class manager - His record speaks for itself. His involvement with Notts County, however, along with his illustrious personal life makes him a questionable character - A primitive playboy, if you will. To see Eriksson battling amongst the stars of our game almost seems comfortable and fitting. To dabble in the lower leagues has an awkward sitting position, though. Those who know football know that this connection wasn't born through a love of Leicester City or passionate football. The heart of the relationship remains in the negotiating room, and is signed on cheques weekly. It was Leicester's paving stone treatment and an insight into what the future held for Leicester.
Today is that future, and today Leicester have flaunted their cash at anything that moves. Having signed eleven players to their books already, you'd have thought enough would be enough. After all, their poor start to the season was met by a resurrection under Sven, as they finished the season on good form and closing in towards the playoff positions. The likes of Hobbs and Weale acted as solid Championship players who could still develop and prove themselves at a higher level. To do so, though, would require maturity, responsibility and professionalism. It's much quicker to import a dozen players from around the continent though; strap them into their luxury cars, luxury suits and luxury accessories, all paid for on their luxury wages, and you'll soon be accompanied by the stars that can offer something else.
It leaves a bitter taste and a sour impression to the rest of the country, though. Talented and young defender Jack Hobbs has moved on from the King Power stadium and now is back under the professional that is Nigel Pearson at Hull City. In his place, Matt Mills has been thrusted upon, with the Thai owners throwing whatever they grabbed out of their leather suitcases without even counting the notes. It remains as just one example of close to a dozen that has flooded the Leicester side with rich, pompous attitudes on thousands of pounds a day and a heap of expectation upon them. Years ago, when teams started to splash the cash and dare to dream, they had the decency to keep it quiet once the deals were done and keep their noses clean. They pushed on with the work and made sure the job was done. City seem lost in the modern game. The expectancy acts as their catalyst to reach arrogant levels, and it's worn tiresome on the rest of those watching. Forums across the country have discussed in detail the risk Leicester City have taken, and yet the conclusion remains the same. The risk is only seen from the outside - It's promotion already. Champagne is bought and so is the ice - They obviously won't need the ice, but heck they have the money so why not get it anyway?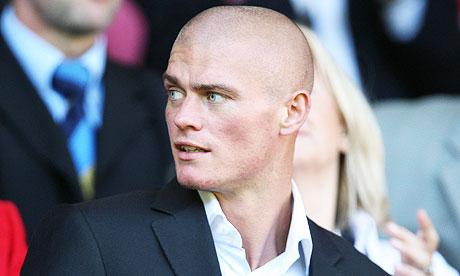 A deer in headlights. Konchesky epitomises the Foxes 'reputation' buys
Stepping back from the delirium that surrounds the "King Power" Stadium, though, and an alarming pattern is being noticed. The arrogance remains unjustified. Leicester have actually bought poorly, and it's time for them to recognise their flaws. Paul Konchesky, for example, has had a career spanning mainly throughout the Premier League. Those that say class is permanent will defend him to the heavens saying he still has the class. This hasn't actually been recognised for years, though. His last season at Fulham was deemed mediocre and followed up by a sinking finish, accompanying Roy Hodgson to a lonesome walk along Anfield's woe. A brief stint at Forest couldn't bring back the 'permanent' class, and now Leicester are proud owners of a confidence ridden, quickly past his prime defender clinging on to his reputation for a job. He's not the only one who doesn't deserve the platform he's mounted upon, either. Kasper Schmeichel, son of Peter, is just another in the long list of those using reputation to bring themselves into the team that money bought. A poor season at Leeds was the result of a quick departure from Elland Road, a rival club that Leicester now feel 'above'. And yet, the fact is ignored that he wasn't deemed good enough for that inferior side.
We could spend all day comparing the lack of class and decency that is within Leicester City, but we'd be trampling across covered territory. Up and down the country, the 23 other Championship clubs remain focused on their own work, and keeping quiet as to what they have to do. What remains untouched, though, is the lack of professionalism that is striking from any angle that views the Foxes revolution. There is no sense of earned justice from Leicester City, only a level of expectation which if not met will be a gambling slip thrown in the trash for the Thais. It doesn't represent the pride and passion of a hard season's graft like Leicester revelled in just three years ago. To be a fan of a club spending such money must reap it's own reward. The excitement and desire will be something that most in the league won't feel for a long time yet. Based upon how Leicester have conducted themselves, though, who'd want it? When Leicester look back on their season in May, whether it be promotion or not, I doubt they'll feel as proud as they did when they took the League One title. It's a bought story, a tale that nobody wants to hear.
-----
If you liked this blog, follow us on
Twitter
for further updates on future blogs.