As England's internationals await Sunday's confirmed squad to face Bulgaria and Wales for next month's Euro 2012 qualifiers, Sir Alex Ferguson took it upon himself to make sure his name was part of the frenzy. Ranting about the respect shown towards his Manchester United side by the Football Association, Sir Alex was quoted in a press conference today, ushering 'Maybe they will realise how important we are to England instead of treating us like s***'.
Ferguson's outburst comes a day after ending his feud with the BBC
The press conference, mainly scheduled as a regular opening to discuss their weekend's game, overshadowed the preparations for their game against Arsenal on Sunday afternoon with the national media having a field day. As of yet, no media source has spoken out against the Scot's outburst, and nor has the FA. Rather, the governing body for English football has decided to decline on a statement regarding the incident.
Ferguson's outburst follows the expectation of eight Manchester United players being part of next month's squad to don the England shirt. Wayne Rooney, Rio Ferdinand, Ashley Young, Michael Carrick, Tom Cleverley, Phil Jones, Danny Welbeck and Chris Smalling are all probable inclusions for Fabio Capello's squad, leading Ferguson to praise his 'outstanding' players, as well as barking 'The FA may realise who has produced more players for their country than any club in the world'.
Recent incidents clashing Manchester United and the FA head-to-head include Ferguson's five-match touchline ban back in March after comments towards referee Martin Atkinson. The FA reacted strongly to the 69-year old's statement 'You want a fair referee, or a strong referee anyway and we didn't get that' following their league encounter with title rivals Chelsea, and imposed the touchline ban which saw Ferguson away from pitch side for a month. The ban placed upon Ferguson was actually an intended three-match ban, but evoked a suspended touchline ban of two games for a previous outburst at official Alan Wiley, who Ferguson claimed wasn't 'fit enough' to keep up with play.
The following month saw a two-match ban placed upon Manchester United and England striker Wayne Rooney after swearing into a TV camera during a mid-day match against West Ham United. Both decisions imposed upon the club's staff evoked reaction from their chief executive David Gill. 'There were some poor-ish decisions that wouldn't have necessarily hit others' stated Gill, 'the actual punishments were harsh'.
In reality, Manchester United have reacted poorly. Extremely poorly. Whilst the vast majority of managers in the Premier League refrain from commenting on refereeing decisions within matches, Ferguson is regularly forward and brutal. A case in point goes back to January 2010, where Ferguson's side saw arch-rivals Leeds United travel to Old Trafford and deservedly snatch victory in their FA Cup third round tie. Following the 1-0 defeat, Ferguson was quick to comment on the officials decision to add five additional minutes to the second half, deeming it a disgrace to the game. No comment was offered from the FA, though the media pounced, all national newspapers disregarding Ferguson's criticism. In the same season, Neil Warnock was warned for similar comments following a league match against QPR. Call it crazy, but that sounds like a favourable shadow was cast upon Ferguson, allowing him to walk away unquestioned.
The Manchester club has often had to dodge questions of favouritism in the past regarding squad selections, too. Whilst Blackpool and Wolves have recently faced questioning, warnings and punishment from the FA for fielding 'delibarately weakened sides', the likes of Manchester United and Arsenal pass on by having made similar number of changes to their side without so much of an question-mark from the Football Association.
And yet, whilst Ferguson remains paranoid of the treatment of his club, it's his comments towards Manchester United's offerings towards English football that should leave many staring with bemusement.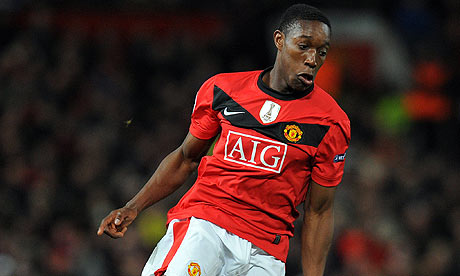 Danny Welbeck; One of the few English talents to break through Man Utd's academy
Referring back to the aforementioned eight expected to join Capello for the Bulgaria and Wales ties next month should be a clear sign of why. Out of those eight, only two originate from Manchester United's youth. Danny Welbeck (who scored against Tottenham on Monday night), as well as Tom Cleverley have come through the ranks at Old Trafford and have become parts of fresher and younger first team squad under Alex Ferguson. The other six, however, have been purchases under Ferguson. Not only this, but the total price of these six players set the Manchester club back by over £110 Million. Calling these an offering to English football is as audacious as paying for your wife's meal at a restaurant whilst claiming 'I made it from scratch'.
Digging deeper into the case, we notice that out of the 49 players who have represented England in the past twelve months, only two have originated from Manchester United's academy. Those two in question are the two already discussed, Welbeck and Cleverly. Clubs including Leeds United, West Ham United and Sheffield United have offered as much to the bloodline of the current English set-up than Ferguson's side. Bragging rights about what we've offered to the nation's side should rightfully go to West Ham, if anyone. After all, not only have they produced six current internationals, but also won us the World Cup in 1966. Indeed, many could question the involvement recently of Manchester United towards the upbringing of Welbeck and Cleverley, both of whom have had to seek loan moves in order to gain first team football before breaking into Manchester United's side.
Of course, the likes of Smalling and Jones will have not fully grown into their potential, and under the wing of Ferguson, will continue to grow and adapt into consistent England internationals. However, when the bloodline of the country's talent is drained from the beginning across so many clubs in our country, it's hard to agree with the rant by Sir Alex. Maybe it's paranoia, maybe it's old age. Whatever the reason, Ferguson has unfairly claimed credit for the work of so many across the country who have developed so many of these individuals. Such bias should not go unnoticed. The members of all the clubs and their academies who produced such talent below should hold great disappointment in Ferguson's outbursts today.
-----
6 - West Ham United (Ferdinand, G. Johnson, Carrick, J. Cole, Defoe, Zamora).
4 - Arsenal (A. Cole, Gibbs, Wilshere, Bothroyd).
3 - Leeds (Milner, Carson, Lennon), Sheffield United (Jagielka, Walker, K. Davies).
2 - Aston Villa (Cahill, Agbonlahor), Chelsea (Terry, C. Cole), Liverpool (Warnock, Gerrard), Manchester United (Cleverley, Welbeck), Middlesbrough (Downing, A. Johnson), Nottingham Forest (Wright-Phillips, Dawson).
1 - Brighton (Barry), Charlton (Parker), Derby (Huddlestone), Everton (Rooney), Gillingham (Jarvis), Ipswich (D. Bent), Lincoln (Loach), Luton (Upson), Maidstone (Smalling), Man City (Richards), Newcastle(Carroll), Norwich (Green), Shrewsbury (Hart), Southampton (Walcott), Stoke (Foster), Sunderland (Henderson), Tottenham (Crouch), Watford (Young), Wigan (Baines), Wolves (Lescott), York (Stockdale).
The list of 49 England internationals from the past 12 months.
-----
If you liked this blog, follow us on
Twitter
for further updates on future blogs.